Brain and language lab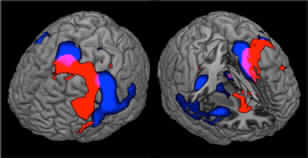 Notre groupe de recherche étudie les bases cérébrales fonctionnelles et structurelles du traitement et de l'apprentissage linguistique. Nous utilisons les méthodes d'imagerie par résonance magnétique (IRMf) ainsi que l'électroencéphalographie (EEG) pour étudier les bases cérébrales du langage et du multilinguisme, en visant à mieux comprendre les processus neuronaux en lien avec des niveaux de traitement linguistique bien précis comme la phonologie et la grammaire. Nous étudions aussi l'interaction entre le traitement linguistique et les fonctions cognitives plus générales, comme par exemple lors de l'interprétation simultanée. Nous utilisons aussi l'imagerie par résonance magnétique structurelle (IRMs) et l'imagerie de diffusion (DTI) pour mieux comprendre les corrélats cérébraux structurels des différences interindividuelles dans le traitement linguistique ainsi que dans l'expertise. De manière plus générale, on vise à mieux comprendre les contributions relatives de l'acquis (par l'expérience, ou par l'apprentissage) et de l'inné (facteurs préexistants, voir même génétiques) aux différences interindividuelles dans le traitement linguistique et auditif, ainsi qu'au fonctionnement et à la structure du cerveau.
---
Publications du groupe
Bilingual speech-in-noise: Neural bases of semantic context use in the native language.
BRAIN AND LANGUAGE
2014 vol. 132C pp. 1-6
ADELMAN A, PEFKOU M, GOLESTANI N
fMRI of Simultaneous Interpretation Reveals the Neural Basis of Extreme Language Control.
CEREBRAL CORTEX
2014 vol. pp. 0-
ADELMAN A, MOSER-MERCER B, MICHEL CM, GOLESTANI N
The Pathways for Intelligible Speech: Multivariate and Univariate Perspectives.
CEREBRAL CORTEX
2014 vol. 24(9) pp. 2350-2361
EVANS S, KYONG JS, ROSEN S, GOLESTANI N, WARREN JE, MCGETTIGAN C, MOURÃO-MIRANDA J, WISE RJ, SCOTT SK
Connectivity changes underlying neurofeedback training of visual cortex activity.
PLOS ONE
2014 vol. 9(3) pp. 91090-91090
SCHARNOWSKI F, ROSA MJ, GOLESTANI N, HUTTON C, JOSEPHS O, WEISKOPF N, REES G
Brain structural correlates of individual differences at low to high levels of the language processing hierarchy: A review of new approaches to bilingualism research
THE INTERNATIONAL JOURNAL OF BILINGUALISM
2014 vol. 18(1) pp. 6-34
GOLESTANI N
Semantic versus perceptual interactions in neural processing of speech-in-noise.
NEUROIMAGE
2013 vol. 79 pp. 52-61
GOLESTANI N, ADELMAN A, OBLESER J, SCOTT SK
Born with an ear for dialects? Structural plasticity in the expert phonetician brain.
JOURNAL OF NEUROSCIENCE
2011 vol. 31(11) pp. 4213-4220
GOLESTANI N, PRICE CJ, SCOTT SK
Adults with dyslexia are impaired in categorizing speech and nonspeech sounds on the basis of temporal cues.
PROCEEDINGS OF THE NATIONAL ACADEMY OF SCIENCES OF THE UNITED STATES OF AMERICA
2010 vol. 107(23) pp. 10389-10394
VANDERMOSTEN M, BOETS B, LUTS H, POELMANS H, GOLESTANI N, WOUTERS J, GHESQUIÈRE P
Native-language benefit for understanding speech-in-noise: The contribution of semantics.
BILINGUALISM: LANGUAGE AND COGNITION
2009 vol. 12(3) pp. 385-392
GOLESTANI N, ROSEN S, SCOTT SK
Individual differences in the acquisition of second language phonology.
BRAIN AND LANGUAGE
2009 vol. 109(2-3) pp. 55-67
GOLESTANI N, ZATORRE RJ
In vivo evidence for the selective subcortical degeneration in Huntington's disease.
NEUROIMAGE
2009 vol. 46(4) pp. 958-966
DOUAUD G AND AL.
Human subinsular asymmetry studied by diffusion tensor imaging and fiber tracking.
AMERICAN JOURNAL OF NEURORADIOLOGY
2007 vol. 28(8) pp. 1526-1531
RODRIGO S, NAGGARA O, OPPENHEIM C, GOLESTANI N, POUPON C, COINTEPAS Y, MANGIN JF, LE BIHAN D, MEDER JF
Anatomical correlates of foreign speech sound production.
CEREBRAL CORTEX
2007 vol. 17(4) pp. 929-934
GOLESTANI N, PALLIER C
Brain structure predicts the learning of foreign speech sounds.
CEREBRAL CORTEX
2007 vol. 17(3) pp. 575-582
GOLESTANI N, MOLKO N, DEHAENE S, LEBIHAN D, PALLIER C
Uncinate fasciculus fiber tracking in mesial temporal lobe epilepsy. Initial findings.
EUROPEAN RADIOLOGY
2007 vol. 17(7) pp. 1663-1668
RODRIGO S, OPPENHEIM C, CHASSOUX F, GOLESTANI N, COINTEPAS Y, POUPON C, SEMAH F, MANGIN JF, LE BIHAN D, MEDER JF
---
Domaines de recherche